---
本文
You Can Be "Lord for a Day" of Akechi Mitsuhide's Fukuchiyama Castle!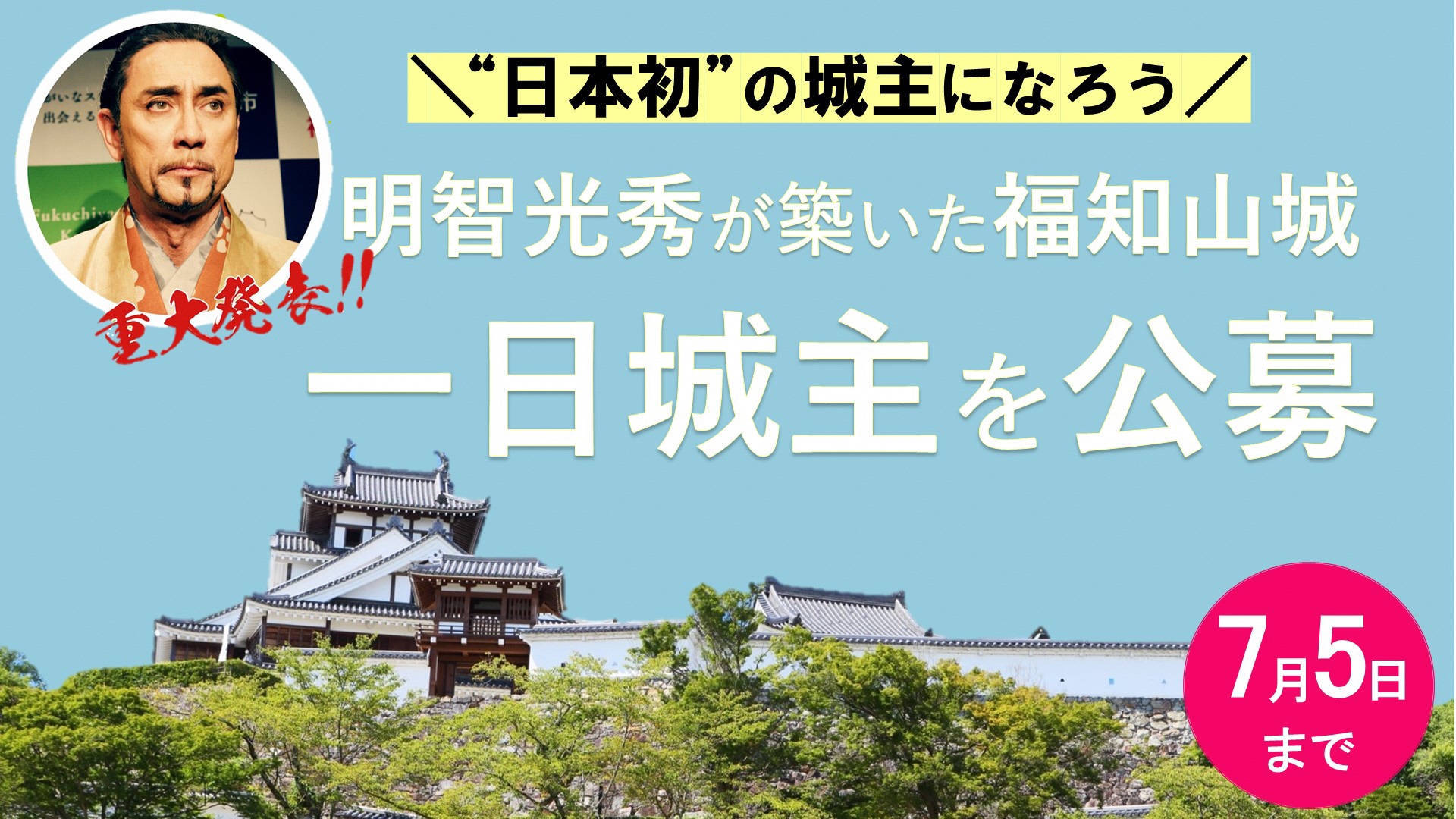 Got any great ideas for making good use of a castle in the Reiwa era?
For the first time ever in Japan:
Winner gets free run of the whole castle for a whole day!
Fukuchiyama, Kyoto, June 6, 2019—The city of Fukuchiyama today announced the "You Can Be 'Lord for a Day' of Akechi Mitsuhide's Fukuchiyama Castle!" initiative, the third installment of the city's "Little-Known Secrets of Akechi Mitsuhide" project designed to spread the word about the fascinating and awe-inspiring aspects of the 16th century warlord who built Fukuchiyama Castle and the vestiges of his involvement in the town that grew around it. The city will place Fukuchiyama Castle at the disposal of idea-competition winner, making the winner Lord for a Day with free reign over the castle Akechi Mitsuhide built. The city also started accepting competition entries today.
The concept behind the action—making someone lord of a historical castle for a whole 24 hours and letting them use it as they see fit—has never been tried before in Japan.
What it's all about
Fukuchiyama is making a nationwide call for ideas (proposals) on how to effectively utilize the tenshu (keep) of Fukuchiyama Castle.

The city will select proposal from among competitive submissions and name the designer Lord of Fukuchiyama Castle for a Day.

The castle will be handed over to Lord for a Day to make use of the castle keep for up to 24 hours (a first in Japan)!

The Lord for a Day will implement the proposal for one full day (also a first in Japan).
In addition to promoting tourism from outside the city by enhancing Fukuchiyama's public profile as the city that grew up around the castle Akechi Mitsuhide built, the initiative is meant to help find new and more diverse ways to make the most of Fukuchiyama Castle, the city's biggest cultural asset, by making it available for broader public use.
In Europe and elsewhere overseas, initiatives and events like this abound to maximize on the attractions of castles—for instance by using them as hotels or other types of visitor accommodations. The keep of Fukuchiyama Castle has welcomed thousands of guests every year since it was restored during the mid-1980s with donations from the local citizenry; Fukuchiyama is now looking for new ways to exploit this fantastic cultural asset in the Reiwa era, which started this year.
Invitation to enter the competition
Entries accepted:

Thursday, June 6 – Friday, July 5, 2019

Lord of the Castle for a Day days:

The castle keep will be made available for the implementation of proposals during one time slot (max. 24 hrs.) between Monday nights and Wednesday morning on the following dates:

1) 6:00 PM Mon. 26 – 8:00 AM Wed. 28 August 2019

2) 6:00 PM Mon. 16* – 8:00 AM Wed. 18 September 2019

3) 6:00 PM Mon. 23* – 8:00 AM Wed. 25 September 2019

* 16 & 23 September is a national holiday

Winning entry announced:

End of July 2019 (subject to change)

Costs associated with being Lord for a Day:

In addition to ¥320 (Fukuchiyama Castle admission), winner will bear the cost of implementing their proposals for the castle's use. Fukuchiyama Castle keep usage (rental) fees are waived.

Where Lord for a Day assume office:

The keep of Fukuchiyama Castle (5 Naiki, Fukuchiyama, Kyoto)

Conditions and screening criteria:

We're looking for ideas on ways to use Fukuchiyama Castle that will help enhance its public profile or communicate the "Awe-inspiring Fukuchiyama" brand message with their awe-inspiring originality.

Entrants should be fascinated by (or at least interested in) Fukuchiyama Castle and its first lord, Akechi Mitsuhide.
Organizations and private individuals are equally welcome to submit entries. They may be domiciled anywhere in the world, though we ask that overseas entrants be able to communicate and complete procedures in Japanese or in English.
Entrants are encouraged to help spread the word about the Lord for a Day competition and events via social media.
How to enter

Use the entry form or send in the required information via postal mail.
Please be sure to read and accept the "application guidelines [PDFファイル/166KB]" before you apply.
Enquiry
For further information about the competition or to apply, direct your enquiries to City Promotion, Fukuchiyama City Hall on 0773-24-7090 or at hisyo*city.fukuchiyama.lg.jp.(*→@)
Fukuchiyama, a castle town built by Akechi Mitsuhide
About Fukuchiyama and Akechi Mitsuhide
Fukuchiyama Castle is just one of many local features that highlight Akechi Mitsuhide and his involvement in Fukuchiyama. Others include the Goryo Shrine, where Mitsuhide is honored as a deity, and civil engineering works like the Akechiyabu levee, an example of his efforts to protect the people from floods. Mitsuhide will also be the central character of Kirin ga kuru, 2020's iteration of the epic TV drama aired Sunday evenings by Japan's public broadcaster, NHK.
About the "Little-Known Secrets of Akechi Mitsuhide" project
With the airing of the NHK epic drama just over the horizon, in February 2019 Fukuchiyama named celebrity and a reputed descendant of Akechi Mitsuhide Chris Peppler as "Fukuchiyama, the Castle Town that Akechi Mitsuhide Built" Special Ambassador and launched the "Little-Known Secrets of Akechi Mitsuhide" project to communicate the fascinating and awe-inspiring aspects of the 16th century warlord and his ties to the town that grew around his Fukuchiyama Castle.
The current initiative is the third in a series that are part of the "Little-Known Secrets of Akechi Mitsuhide" project. The first was a survey, the Akechi Mitsuhide Image Survey, and the announcement of its results on how people perceive Mitsuhide. The second was a promotional video<外部リンク>, "News Conference Announcing Chris Peppler's Installation as New Lord of Fukuchiyama Castle," in which Chris Peppler, dressed as a 16th century warlord, announces his installation as new lord of Fukuchiyama Castle but, as he tries to make an "important announcement," is stopped and removed by officials. (You can watch the video at https://www.youtube.com/watch?v=BZfDcfgtS3E<外部リンク>.)
About Fukuchiyama Castle
Fukuchiyama Castle was built in 1579 by Akechi Mitsuhide after he took control of the local Tamba area. Though the castle was abandoned in the late 1870s [and torn down in the 1880s], its reconstruction was completed in 1986 with the passionate support of the Fukuchiyama citizenry through a fund-collecting initiative, resulting in the three-layered, four-story keep that stands today. The castle was selected for inclusion among the Japan Castle Foundation's 100 best castles of Japan—second selection in 2017, and in November 2018 it served as venue for the fourth game of the Ryūō Tournament for the top title in shogi (Japanese chess) between Yoshiharu Habu (previous Ryūō) and Akihito Hirose (current Ryūō). Fukuchiyama Castle is the only one among the castles Akechi Mitsuhide built that has a keep.
Attracting NHK's epic drama to Fukuchiyama
Eight cities in Kyoto (where Fukuchiyama is), two cities in Hyogo, and one town in Fukui with ties to Akechi Mitsuhide, Hosokawa Gracia, Hosokawa Yusai, and Hosokawa Tadaoki established the Council to Attract NHK's Epic Drama in 2011 to encourage NHK to set the major TV series in the region. During its eight years the council collected more over 260,000 signatures, resulting in NHK's April 2018 decision to broadcast Kirin ga kuru, which will focus on Mitsushide and his life, in 2020.
This prompted Fukuchiyama to launch the Fukuchiyama and Its Ties to Akechi Mitsuhide Promotion Headquarters in June 2018 and the public–private Fukuchiyama Mitsuhide Project Promotion Council in September 2018 to unite Fukuchiyama in advancing Castle Town That Akechi Mitsuhide Built initiatives.
About Fukuchiyama
Fukuchiyama is situated in Tamba in the northern part of Kyoto Prefecture. The area became Akechi Mitsuhide's fief when Oda Nobunaga ordered him to pacify it, and the settlement that became Fukuchiyama was built around the epynomous castle. The city is rich in historical and cultural attractions, including the Goryo Shrine honoring Mitsuhide, which was built at the behest of the citizenry, and plenty of natural features such as the Yuragawa, a river, and Ooeyama, a mountain that was the setting for a famous Japanese demon-slaying legend.
For more information on Fukuchiyama, you are invited to visit the city's official website at https://www.city.fukuchiyama.lg.jp/, the Awe-inspiring Fukuchiyama website promoting the city's attractions at https://www.city.fukuchiyama.lg.jp/site/promotion/, the city's Facebook presence at https://www.facebook.com/fukuchiyama.kyoto/<外部リンク>, or its Instagram account at https://www.instagram.com/fukuchiyama_city/<外部リンク>.

<外部リンク>
PDF形式のファイルをご覧いただく場合には、Adobe社が提供するAdobe Readerが必要です。
Adobe Readerをお持ちでない方は、バナーのリンク先からダウンロードしてください。(無料)